What is CMS(Content Management System)?
CMS is currently the most popular software application to manage overall web activities, especially for startups. Don't you know how to code? No worries.
You can build and manage a website without any coding experience using a CMS. In addition to creating a website, you can create, modify, and publish any content you like with the help of these applications. Besides, design templates and functionalities are also customizable using different extensions. And the best part is, there is no coding!
How A CMS Works?
A content management system has two important parts: content management application(CMA) and content delivery application(CDA). The content management system allows you to create, manage, and edit content using a computer program. The CDA service delivers web content using embedded software code.
These two applications sequentially handle all the codes, database activities, and overall infrastructure in the back end. So you can easily focus on the front view of your site.
So, what to do now?
Choose any content management application.
Open content editor.
Insert any text, image, or link just by dragging & dropping.
Visit the Admin Panel for additional changes like changing the permalink structure or installing extensions.
Looking forward to the next step? With a CMS, you don't have to do anything else. When all changes are done,
The CDA will take the content into the CMA,
Assemble the code,
Display it to your front-end visitors,
And store it.
Whenever you want to publish anything new, just upload it and hit the Publish Button. That's how a CMS works.
Different Types of Content Management Systems
While considering individual business plans, you can easily differentiate the functionalities of different types of CMS. There are three types of CMS applications- Open Source, Proprietary, and Software as a Service(SaaS).
Open Source
Open Source CMS applications need no fees, charges, or licenses to download. The payment issue will arise only when you need-
technical help during the setup
customize more additional setup options
compatible templates & extra extensions
Some famous examples of open source applications include WordPress, Joomla, Magento, PrestaShop, etc.
Proprietary
The majority of these CMS applications are commercially oriented. Proprietary CMS applications need-
buying a license to use the software
paying monthly or annual charges for updates or support
Kentico, Microsoft SharePoint, and Shopify are some Proprietary CMS applications. New businesses or startups should use Open Source applications.
Software as a Service(SaaS)
SaaS CMS applications provide overall support from creating, developing, managing, customizing, and hosting a website. The functionality of SaaS applications depends on the subscription method and is hosted in the cloud. The pricing depends on the-
amount of data transfer
storage for your content and data
ongoing support
Wix, Trello, HubSpot, and Zendesk are some renowned SaaS CMS applications.
However, if you are starting a new business or startup, Open Source CMS applications may be your best bet.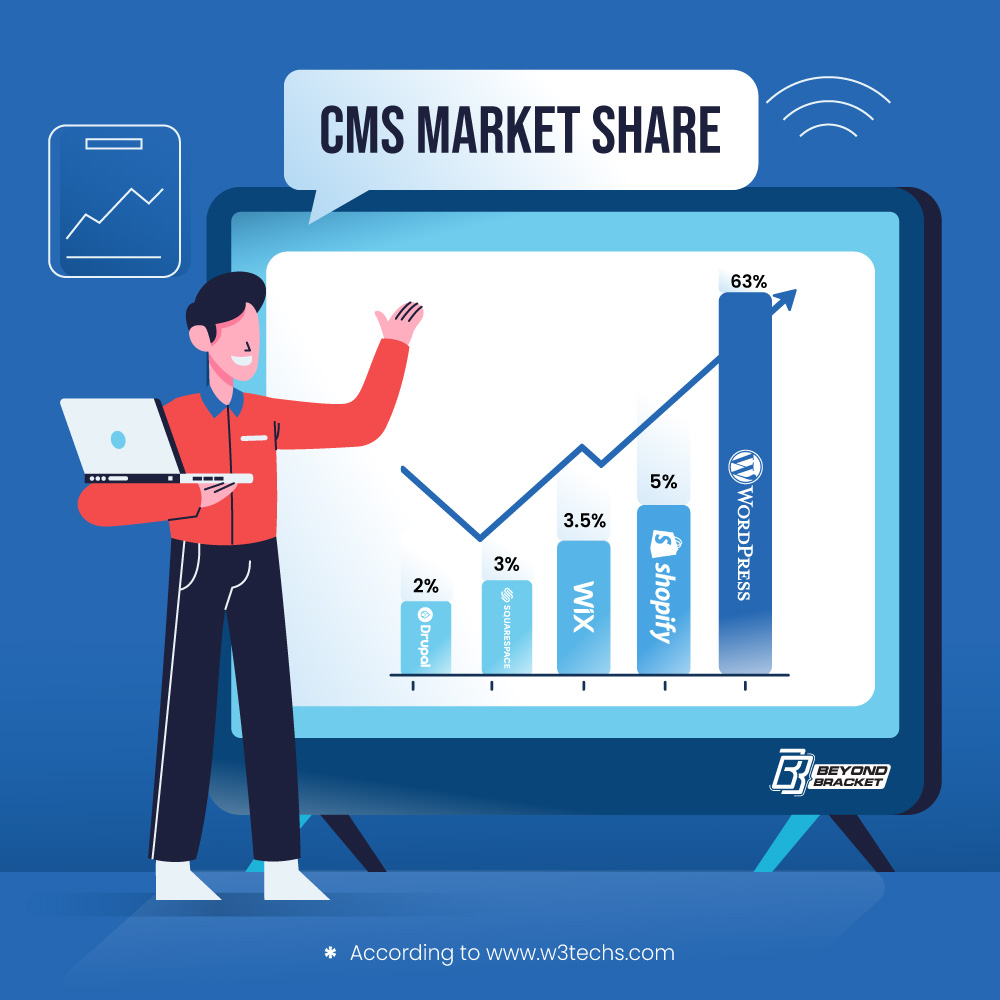 Why Do You Need A CMS?
We have already discussed some benefits of using a content management system application. Let's point them out-
Coding knowledge is not necessary for developing a website.
Multiple users can collaborate at the same time.
Built-in user roles and permission systems allow controlling the user in the safest possible way.
These applications have built-in features as well as add-ons for SEO optimization.
Most CMS applications come with multiple free templates. So you may choose the best one that suits your site.
Updates are easier & faster.
Scheduling is one essential feature of any online activity. It is also possible with these applications.
Users can easily manage a website with multiple roles.
How To Choose The Best CMS Platform For Your Website?
Remember these key points before choosing a CMS application for a website.
Ease of use.
Designable options.
Portability of data.
Available extensions and add-ons.
Support options.
And most importantly, cost.
Which CMS Applications Are Best For E-commerce Business?
Let's first understand how CMS applications can benefit your e-commerce business before moving on to the available applications.
Product inventory management.
Content management and scheduling.
Growth analysis.
SEO-friendly environment setup.
Workflow and performance navigation.
Security.
The best content management system applications for new e-commerce businesses are- Shopify, Wix, WooCommerce, HubSpot, Magento, etc.
What Are The Best Content Management Systems?
Let's have a look at the 3 most popular content management system applications.
Pros:
WordPress gives you the freedom to build any kind of website.
Does not require any coding skills.
You can produce online money from your website in any way you want.
Thousands of available themes. Both paid & free.
Plenty of SEO plugins to make your website more SEO optimized.
Contents can be downloaded for future use.
Cons:
Managing security and backups is all up to you. So being careless can sometimes put your website in danger.
Pros:
Easy to use even if you do not have any technical skills.
Smart content features to personalize your website.
Serverless functions, flexible theme options, and command line tools are available to make customization easier.
Comes with built-in security features.
Cons:
Paid application. But a free trial is available.
Not well suited for e-commerce websites.
Pros:
More flexible and has plenty of available customizable options.
Highly efficient for the developers.
Joomla has available extensions to deploy an e-commerce business too.
Being an open-source application, Joomla provides a lot of community support.
Cons:
Features are a little more complex than other CMS applications.
While using different extensions, you might face compatibility issues.
You can grow your site over time by using a content management system. Storing all the content in one place, collaborating across teams, quick updates, and customizations; is all you can do with a simple Content Management System. And again, no coding.