If you are considering to hire freelance web developer, you must do proper research, read reviews, look at portfolios, and interview potential candidates.
Table of contents:

In today's fast-paced digital world, having a strong online presence is crucial for both businesses and individuals. A well-structured and user-friendly website is a powerful tool to attract and engage potential customers or clients.
However, not everyone has the technical expertise or time to develop a website from scratch. Thus the necessity for web development services arises. Now comes the issue, should I hire freelance web developer or go with a web development agency?
As you read through this article, you'll have a clear picture of what services you need for your business type and who to hire. Before the detailed analysis, let's see the possible pros and cons of hiring a freelance web developer and a web development agency.
Deciding factors to hire freelance web developer or an agency
Depending on your specific needs and budget, you should decide between hiring a freelance web developer or an agency. Here are some factors to consider.
Cost: Web development agencies often charge more than freelance web developers. However, if you want a freelancer with a lot of expertise or a certain skill set, you might have to pay extra.
Timeline: When it comes to deadlines, freelance web developers frequently have fewer constraints than web development companies. Because they are free of the same office schedule and project management procedures. But in case of urgent delivery, it is safer to contact an agency.
Communication: When working with a freelance web developer, communication might be difficult. Make sure your expectations are crystal clear and that the freelancer can keep you informed of their progress.
Scope of work: If you need a complex website or a website with a lot of features, you may be better off hiring a web development agency. Teams of developers that can collaborate to produce a high-quality product are available at agencies.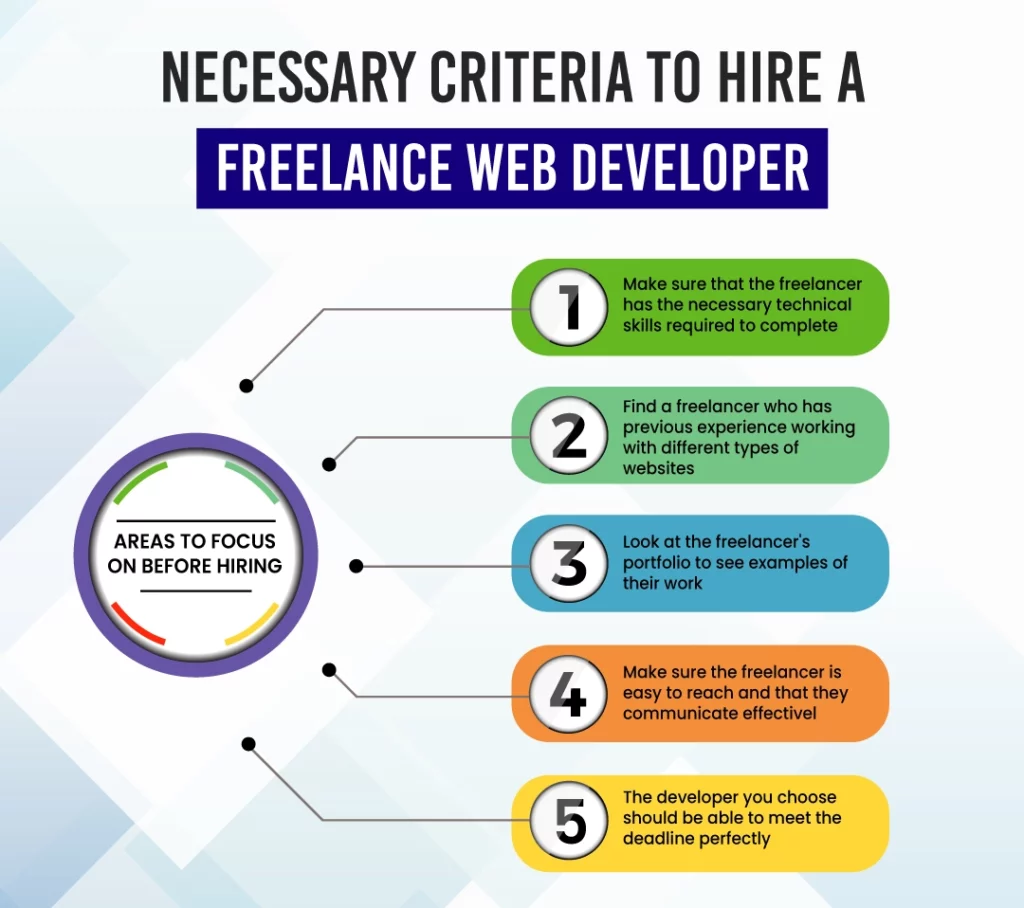 Hire freelance web developer
According to a report, there are over 15 million web developers actively working on different platforms. Therefore it is essential to filter out the one that best fits your requirements. Analyze these factors before hiring a freelance web developer:
Technical skills: Make sure the freelancer has the technical skills necessary to complete your project. It includes proficiency in different web development languages and frameworks.
Experience: Make sure the freelancer has experience with the type of website you need. If you're looking for a complex e-commerce site, you'll want someone with enough experience in that area, right?
Portfolio: Analyze the freelancer's portfolio to see examples of their work. It will give you a good idea of his skills.
Communication skills: When working with a freelance web developer, communication is essential. Make sure the freelancer is accessible and has good communication skills.
Timeliness: Web developers should be able to meet your deadlines.
Price: As there are millions of web developers on different platforms, it is wise to get quotes from several freelancers before decision-making.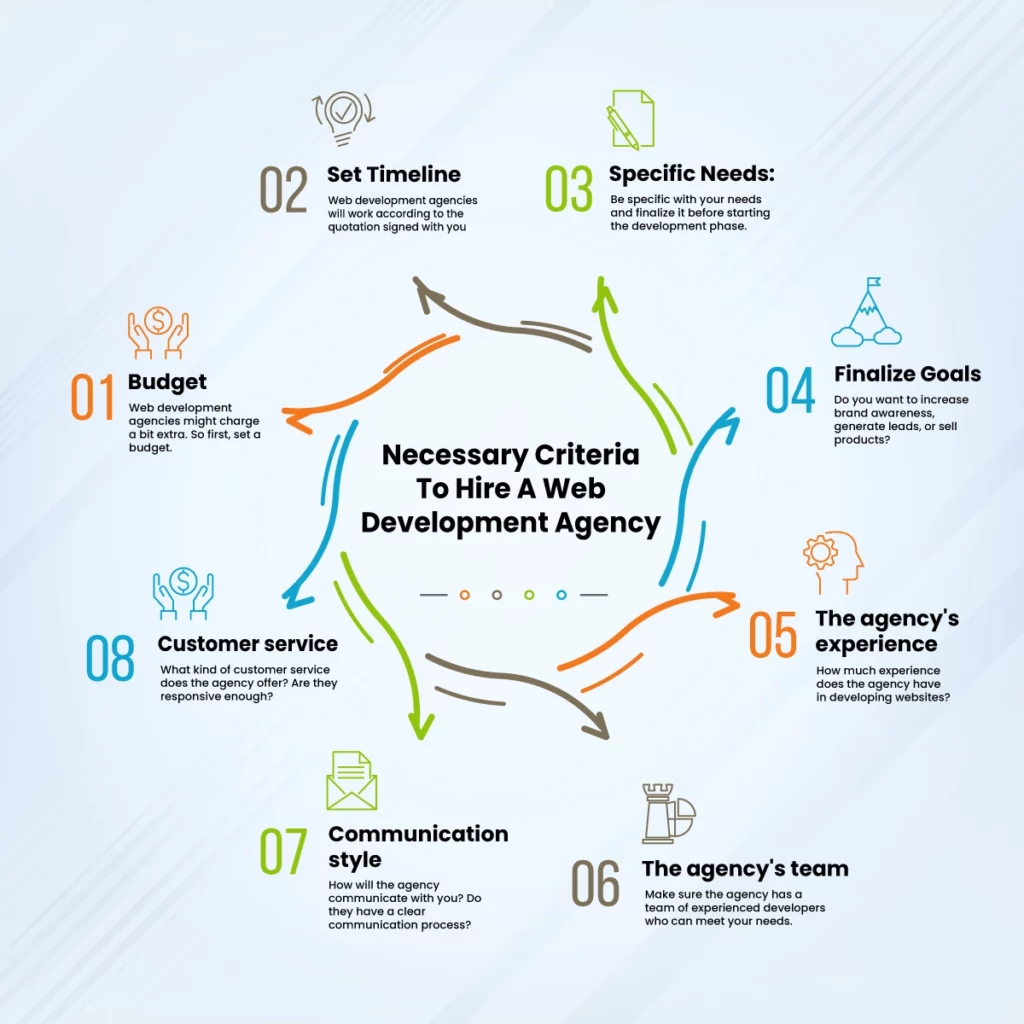 Hire a web development agency
Just like hiring a freelance web developer, you need to go through some filters before choosing a web development agency for your project. Here are some of the most valuable points.
Budget: How much are you willing to spend on your website? Web development agencies might charge a huge budget. So first, set a budget.
Timeline: How quickly do you need your website? Some web development agencies can deliver a website in a few weeks, while others may take several months.
Needs: What do you need your website to do? Do you need a simple website with a few pages, or do you need a complex website with custom functionalities?
Goals: Finalize your goals first. Do you want to increase brand awareness, generate leads, or sell products?
The agency's experience: How much experience does the agency have in developing websites? Do they have a portfolio of websites that you can review?
The agency's team: Who will be working on your website? Make sure the agency has a team of experienced web developers who can meet your needs.
The agency's communication style: How will the agency communicate with you? Do they have a clear communication process?
The agency's customer service: What kind of customer service does the agency offer? Are they responsive to your questions and concerns?
In deciding whether to hire freelance web developer or a web development agency, there are several factors you need to consider. And we have discussed them all. Now it's time to see which option will be best for your business by analyzing several pros and cons.
Freelance web developer or Web Development Agency?
| | | |
| --- | --- | --- |
| Parameter: | Freelance web developer | Web development agency |
| Expertise and skill set | Limited to individual skills and experience | A diverse team with specialized skills and experience |
| Project management | Self-managed, may lack structured project management | Established project management processes and dedicated PMs |
| Scalability | Limited capacity for large-scale projects | Can allocate a larger team based on project requirements |
| Resource availability | Dependent on the freelancer's availability | The abundance of resources and personnel for project needs |
| Quality assurance | May need to rely on individual testing or client feedback | Established quality assurance processes and standards |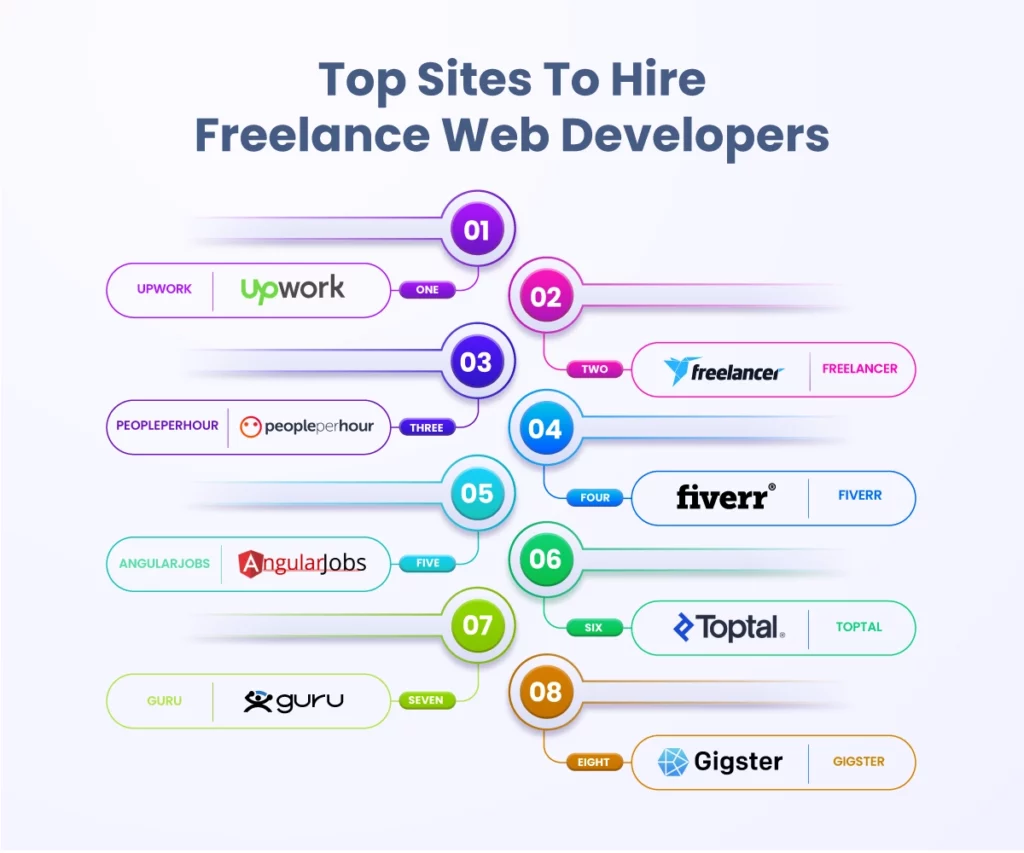 Top Sites to hire freelance Web Developers or Agencies
You might want to think about using a freelancing marketplace like Upwork if hiring agencies and job boards aren't your first choice.
One of the biggest marketplaces for registered website developers is Upwork.
You can start a long-term partnership with a succession of sophisticated projects, or you can engage contractors for a few straightforward coding chores. You can find, select, and manage independent web developers on Upwork if you like the idea of doing so.
A well-known online marketplace called Fiverr links companies with independent contractors that provide a variety of services, including web development.
Web developers from all over the world may be found in significant numbers on Fiverr, offering a diverse range of freelancers with different skill sets and specializations. You may peruse biographies, portfolios, and reviews to judge the skills and caliber of the work produced by various developers.
Similar to Upwork, People Per Hour is a freelancer marketplace. People Per Hour stands out due to its contests and the ability for independent contractors to publish hourly job listings.
Millions of users have enrolled, thousands of hours have been verified, and both freelancers and business owners have had success. People Per Hour is a great option for organizations looking to find and screen freelance candidates for full-time, part-time, or contract web design due to the simplicity of advertising tasks, getting in touch with freelancers, and paying for hours done.
You may also connect with nearby independent contractors using People Per Hour, so you aren't just limited to hiring distant labor.
Freelancer is a marketplace with a sizable number of individuals that have signed up and a total number of jobs advertised. Since Freelancer has a large pool of freelancer profiles for Android programming, you may search through them, screen and interview potential hires, and handle payments on your own. Freelancer may be a viable alternative to consider if you're searching for a reasonable choice.
Angular Jobs is a job board for advertising positions related to the Google-maintained framework AngularJS. AngularJS is an open-source front-end framework based on JavaScript. AngularJS is popular because it simplifies both the development and testing of web applications.
If you're looking to hire a front-end web developer or designer, they'll likely have experience with AngularJS. Angular Jobs is a good site to find web engineers if you have the time to vet candidates yourself.
Toptal is a network of competent, top-notch freelancers for web development and website design that was first developed with tech talent in mind.
The developer community at Toptal is well-versed in most other programming languages and frameworks, including WordPress, PHP, Python, and CSS.
Utilize Guru's extensive network to quickly look through the profiles of independent web developers, make project suggestions, and pay your hired staff using their safe SafePay system.
Different sorts of experts, including Android developers, are hosted on Guru's freelancing network. You will be able to focus your search on yourself, just like with Upwork and People Per Hour. Screening and interviewing will also be up to you.
The social media site LinkedIn serves as a job board for professionals in several sectors. It's a fantastic online community where you can interact with others in your business, discuss updates, advertise a job opening, look for qualified applicants, and keep in touch with your coworkers. The majority of users create thorough profiles on LinkedIn that emphasize their employment, their skills, their academic credentials, awards, and much more.
You may either search for people who meet your requirements or create a new job if you need to employ a web developer. In actuality, you may choose to employ both of these choices at once. You may locate a freelance web developer anywhere in the world and get in touch with them.
For a range of IT tasks, Gigster links you with a competent team of front-end developers.
Clients are assigned to product managers by Gigster, who serve as intermediaries between clients and the company's web development specialists. Project management is greatly facilitated by this, especially for novice managers. Gigster can connect you with a development team much faster than a traditional employment agency.
With millions of profiles being managed in the US, Dice is one of the top databases for IT workers. The website assists technology professionals in managing their careers and connects companies with highly qualified tech personnel nationwide.
Dice will give you information, statistics, and job prospects for IT professionals while giving recruiters and businesses looking for tech talent access to cutting-edge technologies.
Final Statement
With all the meaningful analysis we've done above, you might consider to hire a freelance web developer to do the honors for your small business if you don't have enough capital and want to go live in the Ad platforms.
But if you wish to make a brand of your business, and want to fight with business opponents eye to eye, then contact a web development agency holding a healthy portfolio.
Whatever it is, ultimately the decision is totally yours.