In today's world, there is no substitute for advanced-level online marketing to quickly turn any business into a popular brand. There are several effective platforms for establishing a brand online. Kajabi, Teachable, Thinkific, WordPress, etc are currently popular for online creators' product or service selling and brand building. But why a group of people are talking about alternatives to Kajabi?
The topic we are going to highlight in this blog is the alternatives of Kajabi for selling digital products and services online.
Table of contents:
What is Kajabi?
Kajabi is a one-stop shop allowing online artists to create, advertise, and sell their products and services. Create a website, host your courses, sell your items, and manage your email marketing campaigns all in one location with Kajabi.
Kajabi is a popular platform for various creators, such as trainers, consultants, course developers, and businesses. It is well-known for its ease of use, robust features, and excellent customer service.
Why did Kajabi start getting popular?
Kajabi has many appealing features that make it a popular platform for developing and selling online courses, subscriptions, and digital items. Here are some of the prominent features of Kajabi:
Kajabi offers an Online Course Platform that makes it easy to create and design courses.
With Kajabi, you can create interactive quizzes and assessments for your Online Course Platform.
Kajabi includes a powerful Website Builder that helps users to create professional and visually appealing websites without coding or design skills.
The Marketing Automation Tools of Kajabi assist users in streamlining their marketing activities. Email marketing tools, configurable pipelines, and the ability to design automated campaigns, segment audiences, and track metrics are all included in Kajabi.
Kajabi helps you create and manage Membership Sites with ease.
With Kajabi, you can build Effective Sales Funnels to drive conversions.
Kajabi interfaces with Payment Gateways, Email Marketing providers, Analytics tools, and other critical company technologies, allowing for a streamlined process.
Is Kajabi the best solution?
While Kajabi is a popular platform for developing and selling online courses, memberships, and digital items, it may not satisfy the requirements or tastes of everyone. As a result, people try to explore Kajabi alternatives.
Here are some of the reasons why individuals could consider alternatives:
Cost: Kajabi is well-known for its comprehensive features, however, it is more expensive than some other platforms. Exploring alternatives might be advantageous for people or enterprises on a tight budget or seeking more cost-effective options.
Requirements: Many organizations may have special needs that Kajabi may not fully meet. It includes complex customization possibilities, particular integrations with other tools or platforms, or capabilities that Kajabi does not currently provide.
Scalability: With the continuous development and evolution of many businesses, their requirements also expand. In this case, many stakeholders have discovered Kajabi's scalability or performance to be less standard.
Ease of use: While Kajabi is widely regarded as user-friendly, some users may find its design or capabilities to be ineffective for their specific use case. They may seek alternatives that provide a more plain or straightforward user experience.
Customer Support: To establish any business, excellent customer support is one of the prime requirements. Some users have complained that Kajabi's customer service is slow. It might be a problem if you have a query or an issue that requires immediate assistance.
It is enough to cause doubt in the minds of business owners, project managers, and even developers to use Kajabi for successful projects. Most startup businesses are surely going to avoid it.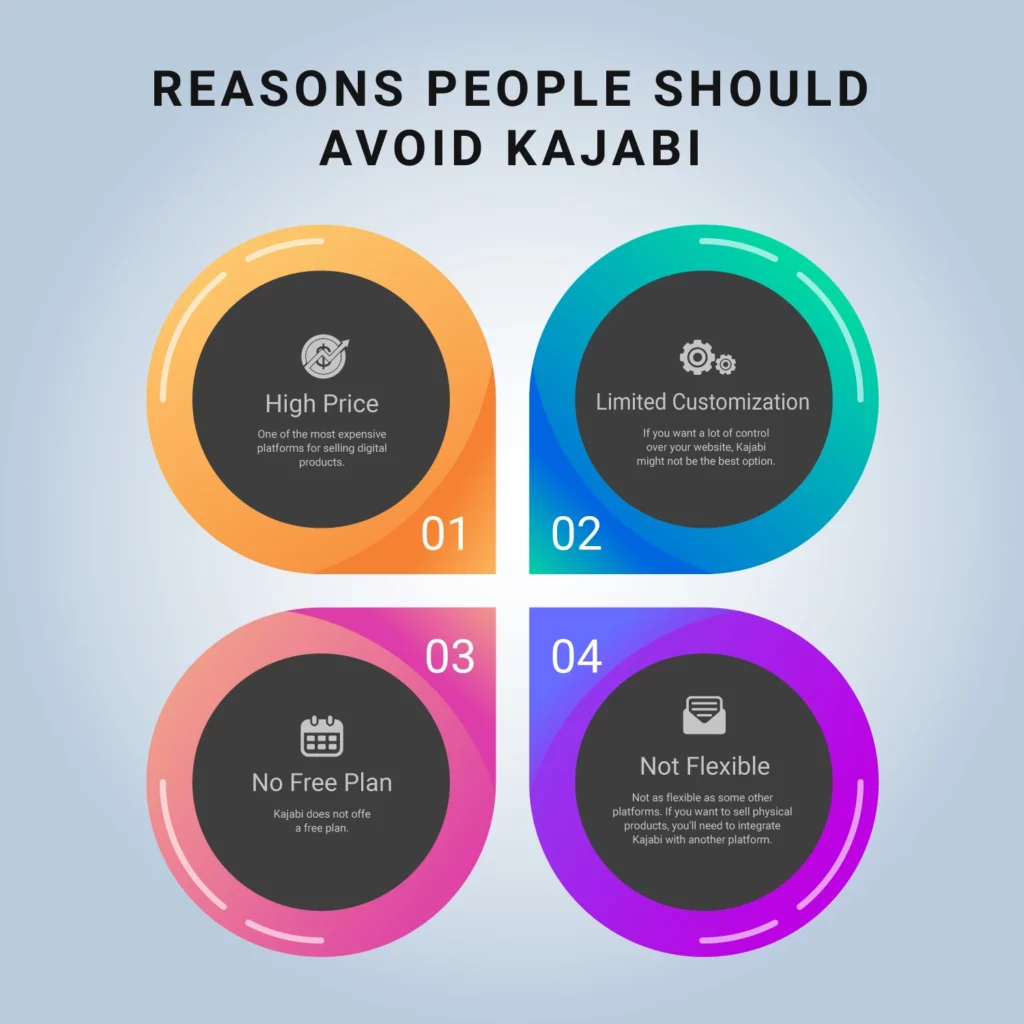 Are We Forgetting WordPress?
WordPress can be the best alternative to Kajabi if you are looking for an affordable and user friendly business solution. Why? Have a look.
Since WordPress is a free and open-source platform, you may use it to build your online courses without having to pay for a platform. Kajabi, on the other hand, has a beginning monthly fee of around $119 and is a subscription site.
Because WordPress is such a versatile platform, you can tailor your website to fit your demands and branding. Kajabi is a less flexible platform and may not allow for as much customization.
You have total control over your website and your data while using WordPress. Due to the fact that Kajabi is a hosted platform, you have less control over your data.
If you need assistance, you can receive it from the big and vibrant WordPress community of users and developers. You might have to wait longer for assistance because Kajabi has a smaller community.
Because WordPress is a widely used platform, hackers may target it. To safeguard your website, you may employ a number of security methods. Although Kajabi is also a well-liked platform, it comes with a variety of security safeguards as standard.
So choose your platform wisely. For custom WordPress development service with high quality graphics support and beautiful text content, contact with a web development agency.
There are some more alternatives to Kajabi which might suit your business needs. So, what are the other alternatives to Kajabi? Let's figure it out.
Best Alternatives to Kajabi
Mighty Networks
Mighty Networks is one of the top-rated platforms that helps people build online communities. It provides a variety of features to help creators.
Mighty Networks supplements Kajabi with capabilities like live streaming, integrated course events with RSVP, and lively community functions that allow you to form subgroups that you may even charge for.
Mighty has also introduced Mighty Co-Host, a powerful AI community engine. It provides much more features, such as automatically producing course outlines, offering discussion prompts, and providing writing ideas and advice. Mighty Co-Host may also develop a Big Purpose, community name, brand, landing and sales pages, and other features.
Did we mention Mighty Networks is significantly less expensive? It's the greatest alternative because it accomplishes everything and more for a significantly lesser price.
Here are some of the features which you will experience with Mighty Networks:
AI community development using Mighty Co-HostTM.
Online course building that is intuitive and includes video lectures, engagement tools, Q&A forums, and more.
Live streaming is pre-installed. Go live on all platforms and even teach your course in real time if you like.
A live, functional, and branded mobile app/web access (iOS and Android)
Create engaging discussion boards by posting videos, photographs, audio, and polls.
Messages between community members, both direct and group.
Create branded Spaces that may be free for members or monetized separately as an upsell.
Members can easily keep track of all the wonderful stuff you're offering thanks to an "activity feed" feature.
Add paywalls and membership tiers that are either community-wide or particular to a group or course.
Teachable
Teachable is an online course platform that offers creators to create, market, and sell their services. Creators from beginners to experienced, this is a handy platform for everyone.
It should be noted that many teachers begin with Teachable for their initial online courses and then progress to Kajabi after they are successful. This is because of Teachable's lack of comprehensiveness.
Choosing Teachable implies maintaining additional services in many locations, but it is still less expensive and easier to use than Kajabi. It might not be the best solution for big industries but for the startups, Teachable is kind of a blessing.
Here are some of the features which you will get with Teachable:
Teachable provides a drag-and-drop course builder that makes it easy to create courses.
Teachable provides a variety of tools to help you market your courses. You can create landing pages, email campaigns, and social media ads.
Teachable provides detailed analytics so you can track the performance of your courses.
Teachable allows you to create membership sites where users can access exclusive content for a monthly fee.
Teachable allows you to set up affiliate marketing programs so that you can earn commissions when people refer your courses to others.
Teachable integrates with popular payment processors such as Stripe and PayPal, so you can easily accept payments from your students.
Teachable offers 24/7 customer support, so you can get help whenever you need it.
Thinkific
Thinkific is an option for Kajabi to consider if you want to build online courses. Thinkific attempted to offer an all-in-one solution for entrepreneurs to construct websites to host all of their digital products, from online courses to digital memberships, on their platform.
Quizzes, multimedia-based articles, films, polls, webinars, and other sorts of material can be created by creators and entrepreneurs for their online courses. Thinkific also features automation capabilities that make onboarding students and sending mass mailings easier.
Another characteristic that makes Thinkific a wonderful alternative to Kajabi is that it is less expensive, to begin with. Kajabi provides a 14-day free trial to get started, but their software has a severe learning curve.
Thinkific offers unlimited bandwidth, advanced analytics, and the ability to fully customize the look and feel of your course site. Other features are almost similar to Teachable.
Podia
Podia includes several tools that make it simple to sell digital products and services. It is an all-in-one platform for creating, selling, and marketing digital items such as online courses, subscriptions, and downloads. It is a popular site for all levels of makers, from beginners to expert educators.
Some key differences between Podia and Kajabi can make Podia the best fit for your business. Both platforms offer a drag-and-drop course builder, video hosting, and integrations with payment processors. But Podia also offers memberships, downloads, and email marketing.
Podia is an excellent choice if you want an easy-to-use platform with a robust collection of capabilities for developing and selling online courses.
If you're searching for a platform with additional functionality and advanced marketing skills, Kajabi is a wonderful choice. But the main thing which will surely make you think twice before choosing Kajabi over Podia is the pricing. You can start using Podia for only $39/month whereas it will cost $119/month if you want to continue with Kajabi.
The main problem with Podia may be the difficulty of creating a unique community around your products compared to some of the other alternatives.
LearnWorlds
LearnWorlds is the most advanced, user-friendly, and comprehensive eLearning system for monetizing your skills, knowledge, and audience.
New, strong feedback-led tools and their adaptable features make it even easier to develop your online school and branded mobile app, produce and sell attractively designed courses, and promote your brand with our no-code website templates.
LearnWorlds has been offering 5-star service with an amazing customer support team since 2014, and our worldwide workforce has grown dramatically in the previous few years.
Some cool features that LearnWolds offers are:
LearnWorlds' drag-and-drop course builder allows you to easily create courses of any length or type. Your courses can include videos, text, graphics, quizzes, and other content.
LearnWorlds delivers precise data to help you measure the success of your courses.
LearnWorlds courses are mobile-friendly, allowing your students to learn while on the move.
LearnWorlds allows you to completely personalize the design and feel of your LearnWorlds site, allowing you to provide your students with a branded experience.
You may add quizzes, polls, and other interactive components to your videos using LearnWorlds' interactive video tool.
You may hold live sessions with your students using LearnWorlds. This is an excellent method for answering inquiries and providing real-time teaching.
LearnDash
LearnDash is a WordPress learning management system (LMS) used by businesses, academic institutions, training centers, and entrepreneurs worldwide to design and market online courses. You can make and sell courses, monitor user progress, send out certificates, give points and badges, and do so much more in just a few minutes!
With LearnDash, you can enjoy a drag-and-drop course builder, course cloning, course creation wizard, progress tracking, gamification, reporting, e-commerce, and more.
LearnDash is a more customizable platform than Teachable, Thinkific, or other similar platforms. However, it is also comparatively less expensive.
A Quick Comparison Between The Alternatives to Kajabi
| | | | | | |
| --- | --- | --- | --- | --- | --- |
| Features | Teachable | Thinkific | Podia | LearnDash | LearnWorlds |
| Pricing | Starts at \$39/month | Starts at \$49/month | Starts at \$49/month | Starts at \$159/year | Starts at \$59/month |
| Course Creation | Drag-and-drop course builder | Drag-and-drop course builder | Drag-and-drop course builder | Visual drag-and-drop course builder | Drag-and-drop course builder |
| Video Hosting | Unlimited video hosting | Unlimited video hosting | Unlimited video hosting | Unlimited video hosting | Unlimited video hosting |
| Payment System | Stripe, PayPal, and Authorize.net | Stripe, PayPal, and Authorize.net | Stripe, PayPal, and Authorize.net | Stripe, PayPal, and Authorize.net | Stripe, PayPal, and Authorize.net |
| Marketing | Built-in marketing tools | Built-in marketing tools | Email Marketing | Marketing automation | Marketing automation |
| Branding | White-label website builder | White-label website builder | Full branding control | White-label website builder | Full branding control |
| Other Features | CRM, affiliate marketing, and memberships | Memberships, downloads, and email marketing | Free plan available | Advanced quiz features | Interactive video, live sessions, and memberships |
The perfect platform for your business will ultimately rely on your particular requirements and tastes. WordPress and other platforms like Thinkific, Teachable, Udemy, LearnDash, etc. may be ideal to start with if you're seeking for an economical, adaptable, and secure platform to build and sell online courses rather than Kajabi. Final words before closing the discussion, "Think About The Alternatives to Kajabi".