Conversational AI has revolutionized the way we interact with technology. One of the most remarkable advancements in this field is ChatGPT, an artificial intelligence model developed by OpenAI.
Table of Contents
ChatGPT has gained significant attention for its ability to generate human-like responses and engage in meaningful conversations. Its applications range from customer support chatbots to content creation tools, and more.
Better User Experience with ChatGPT WordPress Plugins
WordPress, the popular content management system (CMS), powers millions of websites worldwide. Integrating ChatGPT into WordPress opens up new possibilities for enhancing user experience and providing interactive and personalized content. ChatGPT WordPress plugins allow website owners to leverage the power of conversational AI to engage visitors, provide real-time support, and generate dynamic content.
Understanding ChatGPT and WordPress Integration
Integrating ChatGPT with WordPress involves connecting the AI model with the CMS to enable conversational capabilities on a website. This fusion brings together the flexibility and ease of use of WordPress with the natural language processing capabilities of ChatGPT.
Advantages of Incorporating ChatGPT Plugins in WordPress Websites
Incorporating ChatGPT plugins in WordPress websites offers several advantages.
It allows websites to provide instant and personalized responses to visitor queries, improving engagement and user satisfaction.
ChatGPT plugins can assist in content creation, generating blog posts, product descriptions, and other textual content.
Lastly, the integration of ChatGPT with WordPress enables seamless communication with visitors, creating a more interactive and dynamic browsing experience.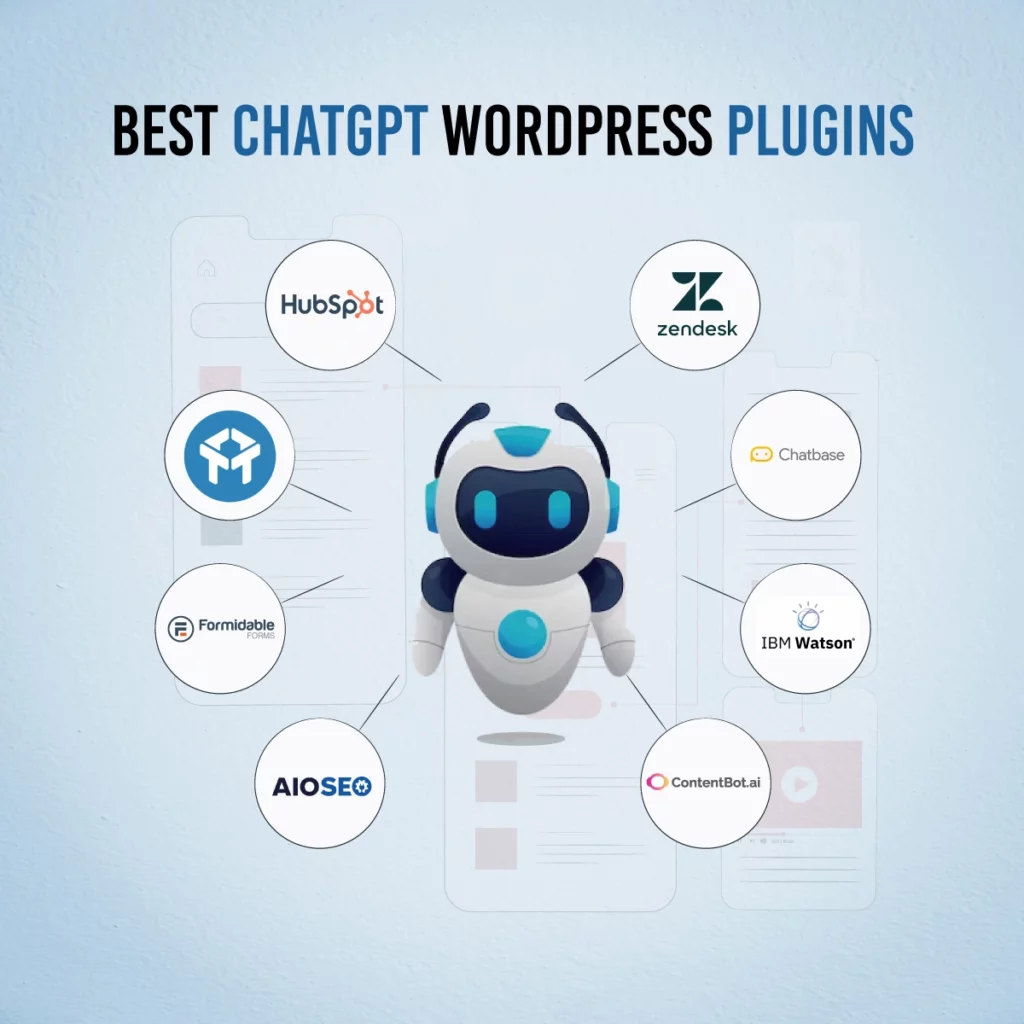 Top 10 Best ChatGPT WordPress Plugins
The AI Engine provides a wide array of AI tools that can benefit your website in numerous ways. With functionalities ranging from chatbots to content creation and media generation, this plugin is designed to support your website's growth in various aspects.
One of the notable advantages of the AI Engine is its compatibility with popular AI models such as ChatGPT, GPT3, and GPT4. By leveraging these cutting-edge models, you can stay up to date with the latest advancements and access the most accurate and relevant information.
In addition, the plugin offers features like AI Copilot, which aids in translating, correcting, and optimizing your content for improved search engine visibility. Furthermore, you can utilize the Social Engine feature to seamlessly share your content on various social media platforms.
Key Features
AI Engine includes features such as :
Real-time chat
Customizable chat widgets
Conversation logs
Integration with popular messaging platforms
It also supports multilingual conversations, sentiment analysis, and context-aware responses.
Users appreciate the simplicity and effectiveness of AI Engine, citing its ease of use and robust performance. The plugin has received positive ratings for its ability to engage users and provide accurate responses.
ContentBot AI Writer is a ChatGPT WordPress plugin specifically designed for content creation. It harnesses the power of ChatGPT to generate high-quality and engaging written content for websites, blogs, and other online platforms.
Key Features
ContentBot AI Writer offers features such as :
Article generation
Blog post creation, and content optimization
It allows users to specify keywords, target audience, and desired tone to generate customized content.
The plugin also provides editing and proofreading capabilities to refine the generated content.
Users have praised ContentBot AI Writer for its ability to save time and effort in content creation. The plugin's user-friendly interface and the quality of the generated content have received positive feedback, making it a popular choice among website owners and content creators.
AIOSEO simplifies the process of enhancing search engine optimization (SEO) for beginners using WordPress. This plugin offers a plethora of high-quality features, but one aspect that stood out to us was its AI-generated suggestions for post titles and descriptions.
With the AI title generator tool integrated into AIOSEO, you can leverage the power of ChatGPT to generate captivating title ideas for your posts. The remarkable part is that you can access these suggestions without ever leaving your WordPress editor, streamlining your workflow and saving valuable time.
AIOSEO proves to be a valuable asset for WordPress users seeking to optimize their website's SEO. Its user-friendly approach and integration of AI-driven title suggestions make it an indispensable tool for beginners and experienced users alike. Maximize your SEO potential with AIOSEO and watch your WordPress site thrive in search engine rankings.
Key Features
AIOSEO offers a wide range of SEO features such as :
Keyword optimization
Meta tag management
XML sitemap generation
Social media integration
Advanced analytics and reporting tools to monitor website performance and SEO metrics.
Users appreciate the ease of use and effectiveness of AIOSEO in improving their website's SEO. The plugin's intuitive interface, along with its powerful features, has garnered positive reviews and high ratings among WordPress users.
Formidable Forms is an exceptional plugin that simplifies form creation, allowing users to design impressive forms effortlessly. Its drag-and-drop builder enables easy addition of fields, customization of layouts, and incorporation of advanced features to enhance form functionality.
Notably, its integration with ChatGPT sets it apart as the premier ChatGPT plugin. By adding a simple form field, you can establish a connection with website visitors and provide them with the assistance they require.
Key Features
Formidable Forms offers features such as
Drag-and-drop form building
Advanced form field options
Conditional logic
Integration with third-party services
The plugin also provides form entry management, analytics, and data visualization tools.
Users appreciate the user-friendly interface and extensive feature set of Formidable Forms. The plugin's ability to create complex forms with ease and its integration with ChatGPT have received positive ratings, making it a valuable tool for capturing user data and enhancing user engagement.
Chatbase is a convenient service designed to enhance the analysis and optimization of bots, ultimately improving user experiences. It seamlessly integrates with various platforms and bots, offering a free-to-use solution.
Chatbase falls within the Chatbot Platforms & Tools category in a tech stack. Furthermore, it is an open-source tool with 74 stars and 49 forks on GitHub. You can access Chatbase's open-source repository on GitHub by following this link.
Key Features
Live-agent logs are ingested and transcribed, including the removal of personally identifiable information (PII).
Conversations are categorized into drivers and intents for easier organization.
Discover training phrases through semantic search, utilizing the power of Google search capabilities.
Model the flow of conversations for each intent, enabling better understanding and management.
Get reports on NLP error rates and optimize the system accordingly.
Export intents and training phrases for development and deployment purposes.
Drift's Conversation Cloud enables personalized engagement with buyers throughout their journey, spanning research, sales conversations, and post-sales assistance. It comprises three core solutions: Conversational Marketing, Conversational Sales, and Conversational Service, all powered by Conversational AI.
Conversational Marketing facilitates real-time conversations between marketers and website visitors, offering tailored content, answering inquiries, and qualifying and converting potential buyers.
Conversational Sales empower sellers to expedite deal closures through unified buyer insights, collaborative tools, and personalized chats via various channels. Conversational Service delivers real-time personalized customer care, deflects minor issues, and empowers customers to find answers independently.
Key Features
Conversational Marketing: Real-time conversations between marketers and website visitors, providing personalized content, answering inquiries, and qualifying and converting potential buyers.
Conversational Sales: Unified buyer insights, collaborative tools, and personalized chats through various channels to accelerate deal closures.
Conversational Service: Real-time personalized customer care, deflecting minor issues, and empowering customers to find answers independently.
Powered by Conversational AI: Utilizing advanced AI technology to enhance and optimize conversational experiences.
Personalized Engagement: Tailored interactions with buyers at every stage of their journey, from research to post-sales support.
Drift has so many unique functionalities. Users enjoy being able to customize the tool to best fit their needs. There are a lot of options and tons of A/B testing. They've seen a huge increase in our leads and opportunities.
IBM's Watson Assistant is a virtual assistant platform harnessing artificial intelligence (AI) methods like natural language comprehension and machine learning. It automates customer interactions, assisting them in resolving issues through virtual agents or chatbots across various digital and voice-based channels.
Key Features
Virtual Assistant Platform: A robust platform designed to provide virtual assistant capabilities.
Artificial Intelligence (AI) Techniques: Utilizes advanced AI techniques, including natural language understanding and machine learning.
Automated Interactions: Automates customer interactions to efficiently handle and resolve issues.
Virtual Agents/Chatbots: Enables the use of virtual agents or chatbots for seamless customer engagement.
Multi-Channel Support: Supports interactions across various digital and voice-based channels.
Issue Resolution: Assists customers in resolving their problems effectively and efficiently.
Customer Assistance: Provides personalized assistance and support to enhance the customer experience.
Advanced AI Capabilities: Leverages cutting-edge AI capabilities to enhance interactions and understand customer needs.
IBM Watson's assistance is very intuitive. It works for you even if you are not really into a lot of coding. You just need to answer step-wise step questions. Also – the live preview makes a lot of sense – especially if you are just exploring the various web chat/ bot creation options. One can choose the correct template accordingly.
Rather than promoting our product ourselves, let's rely on the feedback from our users:
Tidio is praised for its user-friendly interface, simplicity, and extensive range of advanced features. It offers a customer experience solution that facilitates the growth of your customer service, marketing initiatives, and more.
Key Features
Swift and seamless integration into WordPress websites.
A collection of over 27 chatbot templates for lead generation, customer support, and marketing purposes.
User-friendly chatbot builder software requiring no coding skills.
Availability of a mobile app for both Android and iOS platforms.
More than 16 chat triggers to initiate conversations.
Advanced capabilities of artificial intelligence (AI) and natural language processing (NLP) integrated within the chatbots.
Users love Tidio! The clean interface and easy setup make it a breeze to integrate a chatbot. With 27+ templates, they quickly implemented lead generation. The no-code builder and mobile app provide convenience. The AI and NLP capabilities ensure smooth conversations. Tidio has elevated its customer support and marketing efforts!
This comprehensive WordPress chatbot platform serves as a versatile tool for marketing, customer service, and sales needs. It encompasses a CRM system to effectively manage contacts, pre-designed lead generation forms, and a live chat feature for fostering customer relationships.
Integrating with WordPress enables seamless synchronization of contact information to the HubSpot CRM, facilitating audience management. Additionally, the platform provides built-in analytics for tracking traffic sources and optimizing website performance. Moreover, HubSpot offers pipeline management, email marketing, reporting, and prospect tracking features to further enhance your business operations.
Key Features
All-in-One Tool: A comprehensive solution that covers marketing, customer service, and sales functionalities.
CRM System: Includes a robust CRM system for efficient contact management.
Pre-designed Forms: Offers ready-to-use forms designed for lead generation purposes.
Live Chat Feature: Facilitates real-time conversations to build and nurture customer relationships.
WordPress Integration: Seamlessly integrates with WordPress, allowing smooth data synchronization to the HubSpot CRM.
Built-in Analytics: Provides in-depth analytics for tracking traffic sources and improving website performance.
Pipeline Management: Offers features to manage sales pipelines effectively.
Email Marketing: Enables email marketing campaigns to engage with prospects and customers.
Reporting: Provides comprehensive reporting capabilities for monitoring performance and measuring success.
Prospect Tracking: Allows tracking and monitoring of prospects throughout the sales process.
Users love this WordPress chatbot platform! It's an all-in-one solution for marketing, customer service, and sales. The CRM system, pre-designed forms, and live chat feature are highly valuable. Seamless WordPress integration and built-in analytics enhance performance. With pipeline management, email marketing, reporting, and prospect tracking, it's a must-have tool for boosting productivity.
This AI-powered chat plugin for WordPress allows businesses to enhance customer connections and boost sales with conversational flows. It enables real-time question-answering and 24/7 support for visitors. With support for over 40 languages, it offers a higher level of personalization.
Additionally, it provides advanced analytics and reporting dashboards to monitor visitor usage patterns, flows, and more.
Key Features
Conversational Flows: Helps businesses build connections with customers and increase sales through interactive conversational flows.
Real-Time Question Answering: Enables businesses to answer visitors' questions in real-time, ensuring prompt and efficient support.
24/7 Support: Provides round-the-clock support to cater to customer inquiries and issues at any time.
Multilingual Support: Supports over 40 different languages, allowing businesses to engage with a global audience and offer personalized experiences.
Advanced Analytics: Offers comprehensive analytics and reporting dashboards to track visitor usage patterns, analyze conversational flows, and gain insights for further optimization.
Personalization: Enables businesses to provide a higher level of personalization to visitors, enhancing their overall experience.
Users are highly satisfied with this WordPress AI chat plugin! It has revolutionized customer interactions, leading to increased sales. The ability to answer visitors' questions in real-time and provide 24/7 support has greatly impressed users.
The multilingual support and advanced analytics have allowed for personalized experiences and valuable insights. It's a game-changer for businesses looking to enhance customer connections and drive success.
Criteria for Evaluating ChatGPT WordPress Plugins
Installation and Setup Simplicity
The ease of installation and setup is an important criterion when evaluating ChatGPT WordPress plugins. Plugins that offer a straightforward installation process and user-friendly configuration options are preferred, as they save time and effort for website owners.
Customization Capabilities and Flexibility
Flexibility and customization options are crucial for tailoring the ChatGPT plugin to match the specific needs and branding of a WordPress website. Plugins that allow customization of chat interfaces, conversation flows, and visual elements provide greater control and enable seamless integration within the website's design.
Natural Language Processing and Understanding Proficiency
The proficiency of the ChatGPT plugin in natural language processing and understanding is vital for accurate and contextually relevant responses. Plugins that demonstrate advanced language understanding capabilities, including handling synonyms, context-based responses, and handling complex queries, are highly desirable.
Integration with WordPress Ecosystem and Features
The integration of ChatGPT plugins with the wider WordPress ecosystem and its features is another important consideration. Seamless integration with other plugins, compatibility with various WordPress themes, and adherence to WordPress coding standards contribute to a smoother user experience and increased functionality.
Things You Might Ask About ChatGPT WordPress Plugins
ChatGPT WordPress Plugin Lifetime Access
Users often wonder about the availability of lifetime access to ChatGPT WordPress plugins. While some plugins offer lifetime access as a one-time purchase, others may follow a subscription-based model. It's essential to check the pricing and licensing terms of each plugin to determine the availability of lifetime access.
ChatGPT WordPress Plugin Free Options
Users frequently inquire about free options for ChatGPT WordPress plugins. While some plugins offer free versions with limited features, others may provide trial periods or freemium models. It's advisable to explore the available options and assess the features and limitations of each free plugin.
ChatGPT WordPress Plugin Download Process
To download and install ChatGPT WordPress plugins, users typically follow a straightforward process. It involves accessing the plugin's official website or the WordPress Plugin Directory, selecting the desired plugin, and downloading the plugin file. Users can then install and activate the plugin from their WordPress admin dashboard.
Extending Functionality with ChatGPT WordPress Plugins
Users may wish to extend the functionality of their ChatGPT WordPress plugins by integrating additional extensions or add-ons. These extensions can enhance features such as language support, analytics integration, or integration with specific platforms or services.
Understanding Plugins in WordPress with Examples
To understand plugins in WordPress, it's helpful to explore real-world examples. Some popular plugins include those for SEO optimization, e-commerce functionality, security enhancements, and, of course, ChatGPT integration. These examples demonstrate the versatility and power of plugins in extending the capabilities of WordPress websites.
The Future of ChatGPT WordPress Plugins
ChatGPT WordPress plugins have transformed website interactions and experiences. We should expect ever more potent plugins as AI develops further. These plugins improve automation, increase user engagement, and support organizations in achieving their objectives.
For website owners, bloggers, and content producers, the combination of ChatGPT with WordPress opens up a world of opportunities. Website owners may enhance their user experience, boost SEO, and expedite operations by assessing characteristics including installation ease, customization options, and WordPress integration.
With continued developments in AI technology and the rising need for better user experiences, the future of ChatGPT WordPress plugins is bright. It's critical to look into available possibilities, evaluate their capabilities, and select the best plugin for certain requirements. Embrace conversational AI, unlock the full potential of a WordPress website, and create engaging experiences for visitors.